Introduction
I find myself sitting here amidst stacks of Briegleb family history in the form of newspaper articles and photographs, which are evoking memories of years gone by. Some good, some not so good. I will attempt to put the foregoing on this site in the days, months and years to come. The 30 or so years of my family's and others experiences at El Mirage could undoubtedly fill volumes. But it won't. I have my limits. To begin with, the reader will learn about some of my ancestors, most noteworthy, my Grandfather, Gustav Arminius Briegleb (GAB), my father William Gustave Briegleb (Gus) my mother Annie Briegleb, and brother Ken. The narrative will then follow my family's journey from Van Nuys, California to the Mojave Desert where my Dad purchased from the War Assets Administration an ex army airfield known as Mirage Field Auxiliary #3. The viewer, reader of this site will notice a section of pictures that will eventually accompany the story of my experiences in homebuilt/experimental aviation in which I'm still active. My father was always involved in experimental gliders and sailplanes so we will have photos and stories of his aircraft as well. Of course there's the myriad of humans that were with us over the years at El Mirage. So many, I can't recount them all. I wish I could.  I would like to acknowledge and thank my good friend Trip Mellinger who is responsible for building not only this site, but the idea of it as well, and my son Ken, who, without his help we would not be doing this.
Ross Briegleb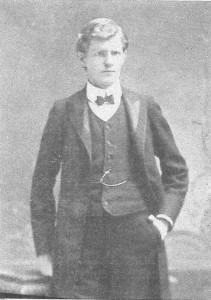 GUSTAV     ARMINIUS    BRIEGLEB
We will get started with my Grandfather Gustav Arminius Briegleb. Later on I will refer to him as GAB(great initials for a preacher).The following narrative was his obituary and lists his ministerial pursuits.  Later on we'll visit some of his experiences with family and the corrupt Los Angeles officials and gangsters he was engaged in sparring with.
Gustav Arminius Briegleb was born in Jersey City Heights, N.J. on September 26, 1881.
With a widowed Mother he began to earn his way at an early age, keeping up with his school work, and attending Sunday school regularly.  As a very young man he took great interest in Green point Y .M. C. A. activities, never wavering from his desires to study the Bible and preach.
At last the day came when Rev Chas. C. Cooke opened the way for him to go to Chicago where heentered Moody Bible Institute and studied under Dr. William Evans. He worked hard and long hours to keep himself at the institute.
In 1904 he graduated and with his young wife Marie Bella Hartzell went to Kirkland, Ill. where he was ordained in the Trinity Congregational Church on June 16, 1906 at the age of 28, still continuing to study, this particular course being Greek.
After one year he went to New Haven, Conn., attending Yale Divinity School, presiding in a small suburban church.  Charges in Tuckahoe and Syracuse, N.Y. followed.
Young Mr. Briegleb had the desire to become identified with the Presbyterian Church of Baltimore, Md.,being received into the Presbytery of Baltimore in 1911.  The young preacher did an outstanding piece of work there, making extensive improvements in the structure, pacing this congregation upon a faith basis by their tithes and paying off the mortgage. Holland Memorial Presbyterian in Philadelphia sought him and here he served during the years 1916 and 1917, then came the call to California.
Mr. Briegleb entered upon his pastorate in Westlake Church in June, 1917, received his Doctor of Divinity and received his Doctor of Divinity Degree from Whitman College Walla Walla, Wash. at this time also.  After Westlake, came St. Paul's and Bethany churches.  Ill health caused him to resign from the active pastorate in September, 1937.
Dr. Briegleb was three times a commissioner to the General Assembly, held the office of moderatorof the Presbytery of Los Angeles, was elected by acclamation to be the Moderator of the Synod of Calif.in 1924, and was President of the Ministerial Union of Los Angeles for one year.  In 1926 he was a delegate to the Twelfth Council of the General Presbyterian alliance, Cardiff, Wales. He was a member of the Knights Templar Commondery No. 9, Utopia Lodge F & A.M No. 537 and Hiram's Masonic Club of M.G.M. Studios.  He was honorary Chaplain of the Utopia Lodge and the Hiram's Club,also of the Los Angeles Fire Department. Active in civic affairs and in the improving of conditions in general, he endeavored to give his Christian testimony by his daily life in the community, trying to make it a better place.
Dr. Briegleb is survived by his widow Sarah Frances Briegleb.
Three sons and one daughter;
H. Evans Briegleb
William G. Briegleb
John F, Briegleb
Catherine Briegleb- Taylor
Four Grandchildren and a Nephew, C.T. Briegleb
(All the afore mentioned are deceased with the exception of the Grandchildren)
More to follow ——-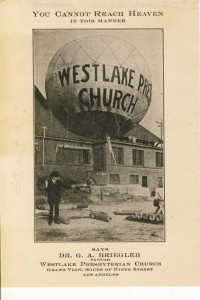 GAB was a powerful orator and a good singer. (he was part of a singing quartet at the Moody Bible Institute before his ordination.) It's clear that whatever church he was serving he seemed to be able to secure and impressive flock. Enough of a flock that he alway left that particular church in a better financial standing than it was in when he found it.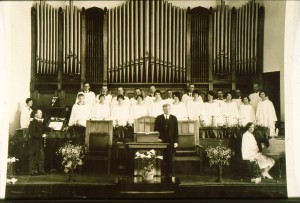 After arriving in Los Angeles, Ca. in 1917, he seemed to really come into his own and the faithful were numerous in Los Angeles. So, even competing with the likes of Reverend Shuler and Aimee Semple McPherson not only did he draw large congregations, he had in attendance the rich and famous, which included movie mogels, politicians and gangsters such as Charlie Crawford.
As mentioned in the book "A Bright and Guilty Place" gangster/politician Charlie Crawford joined GAB's church and was baptized. He seemed so enthusiastic in trying for a ticket to paradise that he gave large donatons to the church. Some of which were to be used to build a radio station in the basement of the church that in part could be used to promote Charlie's political ambitions in Los Angeles.
Not long after the donations began, Charlie was gunned down. GAB was called to be at the dying mans's side. Apparently with his dying breath he told GAB his killer was "Dave". Dave Clark was and ex-district attorney in Los Angeles. At the time and after going to Charlie's office they got into a scuffle and wouldn't you know it, Dave's gun went off wounding Charlie and killing a reporter who was also present. So "DA" Dave killed two people and ultimately got off.
GAB gave the eulogy at Charlie's funeral in his packed church and was observed to be sobbing. His cash cow was dead. According to reports the radio station was never used. Some of the foregoing was garnered from the book, "A Bright and Guilty Place" by Richard Raynor.
GAB was also recently portrayed in the movie " The Changeling" by actor John Malkovitch, also starring Angelina Jolie.
The above is a small sampling of the issues GAB was involved in. Gustav Arminius Briegleb was the champion of the misjugded and a fighter of corruption during his years as a minister in Los Angeles. He and his seconed wife Sarah raised a family of four children, all of which were properly educated and went on to be upstanding citizens.
Apparently, he dabbled at being private detective after leaving the ministry and finished up his working life as a night watchman. Go figure.
For reasons I'll never be clear on, I didn't succumb to the religious beliefs of my grandfather. I was also fortunate that my parents didn't ram the Jesus story down my throat as I was growing up. The religious thing has always struck me as odd.
Next up,  a little history about my Dad and Mom.